We have been making ongoing visits to the Botanical Gardens in both Bogor, West Java, Indonesia (Kebun Raya Bogor) where we are now headquartered, and nearby Cibodas Botanical Gardens (Kebun Raya Cibodas)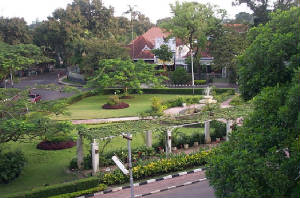 The Bogor Botanical Gardens are an oasis of calm and sanctuary from the urban traffic. Built by the Dutch Colonials during their occupancy, they were a favorite retreat for many aristocrats of the day. They have a mindboggling number of species of plants on display, many labeled according to their scientific name and classification.
The Presidential Palace is also located in a segment of the Bogor Botanical Gardens that has been secured from public access.
The Cibodas Botanical Gardens, or Kebun Raya Cibodas, are at a much higher altitude and thus much cooler than their counterparts in Bogor. They feature a couple of waterfalls, lush European gardens, an herbarium, and a population of monkeys frolicking in a grove of evergreens.
Though this is a tropical mountain rainforest there are times you can still see your breath in the heat of the day here.
This lovely park borders on Taman Nasional Gede Pangranggo, or Gede Panggrango National Park.