Adventure New Zealand offers the ultimate in environmental tourism, from ecotours, to whitewater rafting adventures, to safari camps, all at amazingly affordable rates. Come witness for yourself the majestic scenery brought to life by the filming of The Lord of the Rings.
Adventure New Zealand offers the unrivaled natural

beauty of New Zealand at the lowest possible prices
Cheaptickets offers a 110% lowest fare guarantee on all airline tickets, whether you are traveling to the rainforests, within the states, Asia, Africa, or anywhere in the world you travel for ecotours or for any other reason

USA Adventure offers tours of the San Francisco area, as well as national and international tours. Featured trips include tours of Muir Woods,the redwood forest preserved in honor of John Muir, the founding father of modern ecology, and Yosemite National Park, whose preservation was also championed by John Muir. Click the photo on the left for booking or information.

Cancun Travel offers a full range of adventure and ecotours, including rafting, snorkeling on the Cancun area's pristine beaches, dolphin encounters, jungle and Mayan Riviera tours, dives at deep discount rates, and much, much more.This is a very environmentally friendly travel agency, admonishing all tourists, especially divers, to care for and preserve the environment. Click on the picture for booking or more information.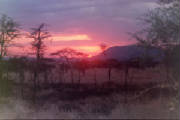 Safari Now offers ecotours all over africa. From the beautiful countryside of South Africa, to the rugged splendor of the Serengeti in Kenya and Tanzania, to the biodiverse wonder of Zambia, Safari Now offers it all. Click on the picture for more information or to book a tour.