Support your conservation and ecotourism travels by teaching English in the country of your choice. Get certified for $69 or less. Placement guaranteed. Click for more information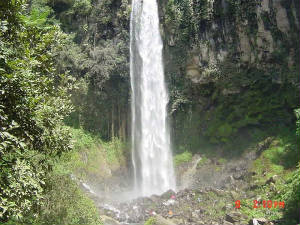 On Sunday, November 7th we made our first and perhaps most exciting partnership on our Java, Indonesia tour. We toured the Grojogan Sewu waterfall and monkey forest in Tawang Manggu, located in Central Java near Solo, and met with the park management.
We discovered that, although this magnificent preserve did have a yellow pages listing on the web, they did not have their own website. We agreed to make one for them to allow their park greater publicity and assistance. You can check this site out at http://monkey-forest.tripod.com
We were also shocked to discover that, though one of the premiere monkey forests in Indonesia, they were unaware of the existence of the IPPL (International Primate Protection League) We are thus in the process of establishing a working relationship between Grojogan Sewu preserve and the IPPL and will keep you posted as this progresses.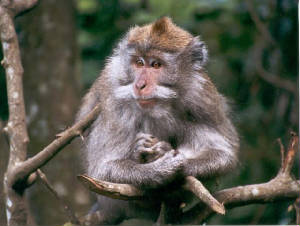 We were pleased with Grojogan Sewu's conservation efforts, both within the park and within the surrounding community. The park was well equipped with ample trash receptacles, and park authorities actively encouraged the use of these. There were also erosion barriers everywhere, and the results showed; the hills were all covered with vegetation. This erosion prevention technology extended to the community, where the local rice farmers, having been educated by the park authorities, also had well terraced paddies with reinforced runoff barriers.
We are also happy to report that, despite the feeding of peanuts to the monkeys at specific times appointed by the park, the monkeys still fed with consummate self-sufficiency at all other times.
The next stop on our list was Telaga Pasir, a crater lake around which a resort has been formed just east of Tawang Manggu.We visited there on Monday, November 8th. We found this resort to be more interested in tourism than conservation, and its establishments had a heinous practice of charging western prices for third world quality, with no evidence of these excessive revenues being used to better the environment. We therefore have not established ties with this community.
On the same day we visited two of the most picturesque beaches in Southern Java, or anywhere in the world, Ngylep and Balekambang. These required a long and harrowing drive to reach, but were well worth it.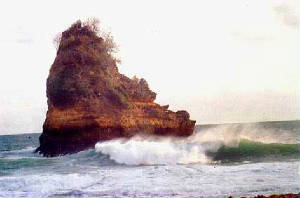 Ngylep was formerly the Queen of Java's private beach, and one can see where its regal beauty would charm her. Her tomb atop one of the ruggedly beautiful stone islets near the shore is still open for public viewing, connected by a pedestrian bridge.
Balekambang is the site of a picturesque Hindu temple built on a rocky islet near the shore, also accessible by pedestrian bridge. It is a marvelous example of cultural architecture working in tasteful harmony with the beauty of nature.
We were pleased with the cleanliness of the water at these locations, as well as the efforts made to keep the parks free of litter. The standards maintained by these parks are indubitably helping to preserve the coastal biodiversity in Southern Java.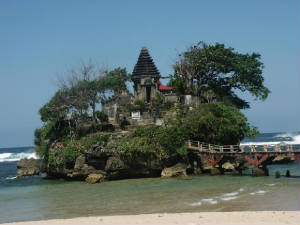 These parks, however, for all their beauty, are relatively unknown outside of east Java. We have therefore agreed to help put these parks on the map of cyberspace with an online presence. Visitors to these regions can benefit the local economy and indigenous people because the beaches and concession areas are still run by individual local families, and have not yet been bought up by corporate tourist giants, who do nothing for the local economy or people.
On the morning of Tuesday, November 9th we visited Taman Safari (Indonesian for Safari Park) They offer a wonderful selection of wildlife to view in both drive-through and walk-through areas.
They also have daily wildlife shows, as well as a reptile and bird park. There is even a place to have pictures taken with baby wild animals, such as liions and orangutans.
We do not normally showcase for-profit organizations, but this park still contributes a significant portion of their proceeds to conservation and education projects, so we feel it is still a worthy cause. Please visit their website at
www.tamansafari.com
for more information.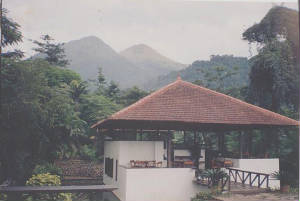 Later the same day we visited the PPLH (Indonesian for Environmental Education Center), located between Malang and Surabaya in East Java. This is a self-sustaining, non-commercial non-government organization whose primary aim is to educate the population about conserving the forest.
We were able to work with them in establishing perhaps our most exciting program, operation Jungle Paradise, wherein visitors can stay in PPLH's first class, resort quality bungalows, in the midst of lush tropical gardens and rainforests, for less than US$20 per night. Proceeds will benefit the PPLH and their mission to preserve the forests, and supporting their volunteers, rather than lining the pockets of some corporate tourism firm. Check back with us for more details; we will have the site for this up and running soon.
On Wednesday, November 10th we returned to Solo in Central Java. We began negotiations there with Chakra homestay. They have created an authentic replication of a Kraton, or Javanese palace, wherein guests can stay in regal splendor starting from about $5.50 US per night. They also offer tours of natural and cultural preserves, such as the monkey forest in Tawang Manggu, Mt Bromo, Candi Sukuh Temple, and many others. We have chosen to work with them because they are a small, family run outfit that charges reasonable prices and put their revenues back into the local economy. They do not yet have a website, so we are working on creating one to give them the publicity they deserve. We will keep you posted on all further developments regarding this exciting prospective partner.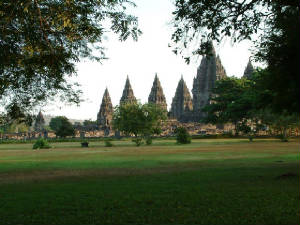 Thursday, November 11th we visited the Prambanan temple, just outside Yogyakarta, in Central Java. The temple is currently undergoing reconstruction, but is still open to the public and gorgeous; a few of the buildings just have unobtrusive bamboo scaffolding around them for the workers to conduct repairs.
We thought Prambanan to be the perfect symbol of our Javanese tour because it so marvelously represented the harmony of cultural and natural preservation. This is evidenced by the view of the temple with the wonderfully landscaped gardens, forests and mountains in the background. Furthermore, much of the stories of the Ramayana and other stories depicted on stone carvings inside the temple are symbolic of the harmonious relationship between man and nature.
We also viewed an audiovisual presentation that began by contrasting the traffic and pollution of Jakarta with the peaceful, natural tranquility surrounding Prambanan. This film then went on to briefly relate the pictorial stories carved in stone within the temple which all have symbols representing man's relationship with nature.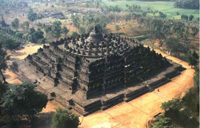 On the Friday morning, November 12th, we visited the most renowned and visited temple, Borobudur. While not as obvious as in Prambanan, symbolism of the harmony between man and nature still existed. This is manifest by the climb to the top of the pyramid representative of one's spiritual ascendancy. The bottom levels are sealed in, whereas from the top level amidst the numerous stupa one is afforded a splendorous view of the impeccably maintained gardens and surrounding mountains and forests.
This relationship is also evidenced by the tree which is central to almost all of the stone carvings on the walls of the temple, as well as by stone carvings depicting punishments in hell for irresponsible fishing practices.
Both these temples are already fully self supporting and share the same website at http://www.borobudurpark.com
We are, however, in the process of negotiating a link exchange with these stupendous attractions and discussing further ways ICS can enjoy a mutually beneficial relationship with these exquisite cultural preserves.
Our last stop was on Friday afternoon at Parang Tritis beach in South Java, an hour south of Yogyakarta. This is a beautiful beach surrounded by rugged cliffs. While the surf is too treacherous for swimmng, it is a delightful place to relax and enjoy the scenery.
It has not yet been spoiled by large corporations- it is run by the indigenous locals. They still serve Indonesian style seafood for as little as 50 cents a plate, and horsedrawn carts still transport the locals up and down the beach.
More details, photos and pages from our tour to be added shortly. Please keep checking back with us as we continue to update our site.



We welcome and appreciate all donations. Please feel free to give as much or as little as you like.
We are currently located at:
Indra Valley Inn,
Bukit Lawang
Near the entrance to the Gunung Leuser National Park's Bohorok Orangutan Rehabilitation Center
North Sumatra, Indonesia
Yangshuo, Guilin, China