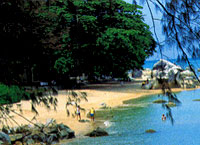 The Beauty of Kuala Lumpur pales in comparison to the exotic natural beauty to be found in this tropical, island paradise. Malaysia is home to some of the most beautiful rainforests and beaches in the world. Thus, also, some of the best biodiversity, as well as diving, snorkeling, and trekking.
There are many geographic regions in Malaysia, each with its own extensive listing of national parks. Click on the links below for more information about how to enjoy and preserve the bounty of this unsullied wilderness for us and future generations.
List of conservation & other links for Malaysian government
Detailed guide to the lovely national parks in Sarawak, Borneo
Official website for the splendorous national parks in Johor
Complete guide to wholesale Malaysian rainforest, beach & city tours.
Featured Tour: Diving and snorkeling in Sabah (Borneo) at the one-of-a kind Sidapan diving resort with unique bungalows actually on the reef and in the water. You can't stay any closer to the action than that. Click the image on the left for more information.