The Orangutan and its rainforest habitat are
rapidly disappearing from Indonesia
Welcome to the International Conservation Society's Conservation & Ecotourism in Indonesia page.
We are currently concentrating a vast number of conservation projects and resources on Indonesia. The reason for this is twofold. Firstly, Indonesia has some of the greatest diversity of species, biomes, natural resources and indigenous peoples and cultures to be found on the planet. Secondly, due to the corruption, elitism, economic disparity, poverty and lack of education that are rampant in Indonesia these resources are all being depleted almost to exhaustion, with many species and even some cultures on the verge of extinction. Indonesia is indeed among the nations in the world most desperately in need of conservation and environmental reform. It is also currently the world's fourth most populous nation, making it rank high on the list of priority in terms of the greatest good for the greatest number. Proceeds from any items purchased on this page will go directly to Indonesian conservation projects.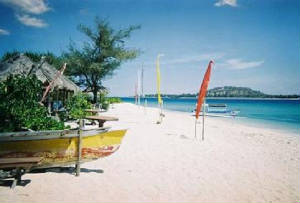 Being an Archipeligo, Indonesia has one of the longest coastline totals in the world. Much of this consists of tropical reefs, and, though it is impossible to count every species on each reef, many scientists believe Indonesia to have the most reef biodiversity in the world.
Indonesia also has some of the most diverse and gorgeous beaches on earth, from the ruggedly beautiful South Java Beaches to the fabled white sand and clear blue water beaches found in Bali, Lombok, Flores, and many other places throughout the country.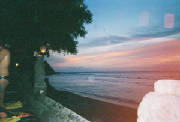 Featured Tour: Enjoy some of the most beautiful beaches on earth, like those shown above or on the left and right in the tropical island paradise of Bali, Lombok, or both. Whether you want to dive, snorkel, surf, or just relax and enjoy the jewel-like waters and most vivid sunsets on the planet, Bali and Lombok have the perfect beach for you. Tours start from just a few dollars per day. Click on the images for more information or to book now.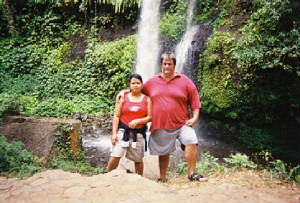 Indonesia possesses some of the finest rainforests as well. Therein dwell many wonderful species, including the dwindling orangutan, Sumatran Tiger and Rhino, and a wide range of additional Flora and Fauna.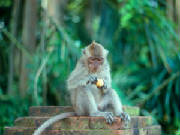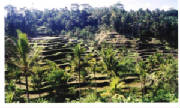 Featured Tour: Experience the beautiful monkey forests, as well as other cultural and natural wonders, in Bali at ridiculously low rates. Cheaper than you could possibly imagine- click on the images for more details or to book.
Indonesia is renowned for its pristine, unspoiled natural beauty, but much of this is rapidly deteriorating. Nonetheless, what still remains is among the best in the world and well worth saving.
From beaches of liquid turquoise on white and golden sands to the lushest rainforests teeming with the most beautiful specimens of primates and birds of Paradise, Indonesia has it all.
Indonesia's endangered species include the peculiar Komodo dragon, the orangutan, the Sumatran tiger, elephant and rhino, among many others. Illegal logging, clearing of land for cash crops, irresponsible ecotourism, irresponsible mining, the illegal pet trade, the ivory industry, and the corrupt complicity of government and law enforcement officials in these practices are largely to blame for this raging destruction. Remember that Western consumers also sponsor many of these practices. Before buying a pet, furniture, or even drinking a cup of coffee please do your homework, find out where these items came from, and make an informed decision that will make sure your purchase does not finance irresponsible and unsustainable exploitation. To learn more, to assist in Indonesian widlife and forest conservation, and to demand reform click on the links below.
One of the most beautiful and majestic creatures
in the world, the Sumatran Tiger is rapidly approaching extinction
Comprehensive list of Indonesian government and non-government environmental and conservation links
Page of Species and National Parks in Indonesia
Gunung Leuser National Park, orangutan and Sumatran Tiger preserve and wildlife sanctuary
Bukit Lawang Orangutan Rehab Center in Gunung Leuser National Park
Thousands of illegally displaced primates, birds,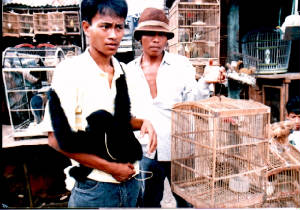 and even komodo dragons are kept in cramped cages awaiting sale in Pramuka Pet Market, Jakarta
Complete Indonesian travela/tour/ecotour guide
The Indonesian Rhino has dwindled to only a few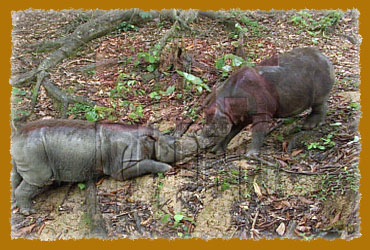 hundred in number. Let's reverse the extinction process
The rampancy of the illegal pet trade is quickly leading many species into extinction in the wild, especially birds and primates. Click on the links to the various agencies below- many of them can provide information and volunteer opportunities concerning attempts to eradicate this menace to the world's wildlife. You can also visit the International Primate Protection League at
http://ippl.org
for more info. This is a problem not only in Indonesia, but in Thailand, Malaysia, Central and South America, and virtually everywhere that tropical birds and primates live.
Ujung Kulong National Park, Marine, Rhino and Wildlife Preserve
ECES article on illegal pet trade
Orangutans Online report about the impact of illegal logging on orangutan populations
International Primate Protection League's pictorial expose of illegal pet markets in Indonesia. Lobbying addresses included
The nearly extinct komodo shown amongst its few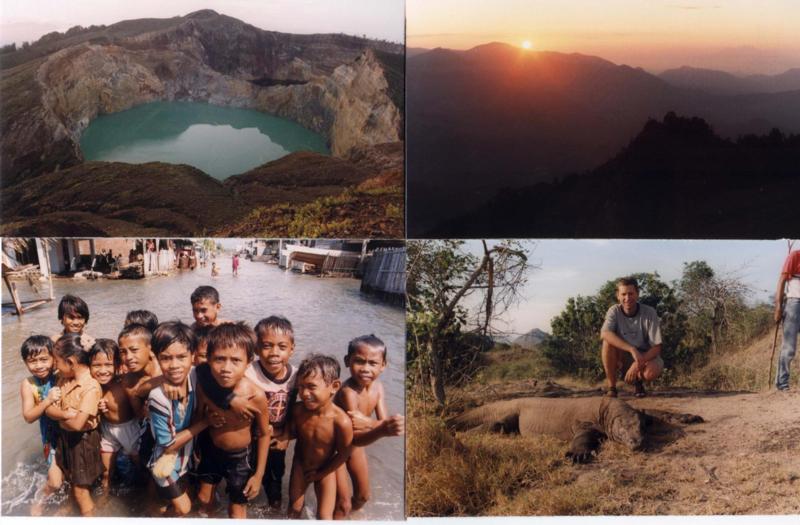 remaining natural habitats
The diversity of ecosystems in

Indonesia

includes rain forests, wetlands, volcanic mountains both active and dormant, plains, coral reefs and many others. These are being rapidly destroyed through many of the practices cited above. For more information on these biomes and ecosystems and their preservation click on the links below.
all of these illegally harvested logs were washed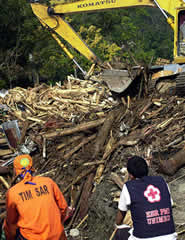 away in the Bukit Lawang floods in Sumatra
Gallery with pics of illegal logging
Lobbying email to forward to friends, parks and political leaders to save the Gunung Leuser wildlife and orangutan preserve from the ravages of illegal logging.
Links to many orangutan and forest preservation groups in Indonesia
More of the destruction caused by the floods in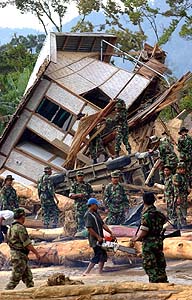 Bukit Lawang that resulted from illegal logging
Virtually every island in the Indonesian archipelago has at least one indigenous culture of its own. Each of the larger islands is home to several. Yet entire villages of these people are displaced by irresponsible mining, forestry, and waste disposal practices.
Their displacement becomes not only an environmental problem, but an economic and social problem as well, when they come to the cities. There they often resort to crime, begging and prostitution as a means of support, becoming a huge burden on the government and taxpayers.
For more information on the fascinating diversity of the indigenous people of Indonesia, their respective cultures and how to preserve them click on the links below.
Taman Mini is a park with replicas of cultural resources and recreations of the homes, costumes and ceremonies of Indonesia's indigenous peoples
culture.or.id is a comrehensive English Language site listing all of Indonesia's major cultural and historical resources and indigenous peoples.